Jurassic World: Dominion Dominates Fandom Wikis - The Loop
Play Sound
| | | |
| --- | --- | --- |
| " | We Anti-Spirals were once a Spiral race like yourselves. But when we learned that the evolution of Spiral Power would lead to the destruction of the universe, we annihilated all those who possessed the power of the Spiral and drove the few surviving life forms to the far corners of the universe. We halted our own evolution and locked ourselves away into this pocket universe! On our homeworld, we sealed away our bodies and any hope of evolution! This form is the symbol of our determination! Foolish creatures, drunk on Spiral Power! We defended the universe by killing our fellow spirals and halting our own evolution! Do you possess the sheer fortitude that is on par with that?! DO YOU?! WE SAY, NO, NO, NO, NO, NO, NO, NO, NO, NO, NO, NO, NO, NO, NO, NO, NO, NOT! AT! ALL! | " |

Antispiral (アンチスパイラル, Anchisupairaru?, is both the leader of and the physical manifestation of the Anti-Spiral tribe's consciousnesses after they sealed themselves away to purge their race of Spiral Power. Antispiral is the archenemy of Lordgenome, being responsible for Lordgenome's madness after explaining the nature of the Spiral Nemesis to him.) He serves as the main antagonist of the Tengen Toppa Gurren Lagann series.
Personality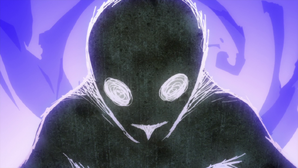 Little is known of Antispiral's personally. Due to the fact that they summarize the more basic traits of their race, their mannerisms are that of a scientist; they are very intelligent, since their race created the reality-bending Anti-Spiral technology, and they also are incredibly foresighted, having become aware of the Spiral Nemesis long before the idea had approached any other species. Despite having cast away Spiral Power long ago, they still retain the unshakable will that defines the most powerful Spiral beings, as they always stood firm in their eons-long battle against the Spiral beings right up until their demise, and never displayed any sign of self-doubt, even when Team Dai-Gurren managed to break free of their inescapable traps.
However, Antispiral's absolute refusal of defeat is notably different from that of the other Spiral Warriors (or at least Simon's), as their strong will is only derived from their own excessive hubris and bias towards other Spiral beings, as well as their apparent lack of faith in their ability to take the responsibility to restrain their power for the better of the universe as his people did. In other words, while powerful Spiral beings like Simon and Kamina derived their power from belief in themselves and each other, Antispiral did so from their total disbelief in all people like them.
Their pride leads them to hold deep contempt for all Spiral beings as well as their frustration at the Spirals' stubbornness similar to their own, paired with their unique blindness to the Spiral Nemesis and their ensuing defiance of their race and their ideology.
Their own immense power rivaling that of Spiral Power and unwavering opposition towards it makes Antispiral worthy of his name, as he is the quintessential opposite of all that is akin to the Spiral.
History
See Anti-Spiral for more information.
Anti-Spiral War Arc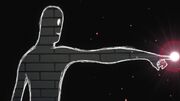 Antispiral sealed Team Dai-Gurren away in the Multiverse Labyrinth after they escaped the Death Spiral Field. While Team Dai-Gurren was trapped, Antispiral was probing Nia for answers for her betrayal.
Gurren Lagann appeared and rescued Nia as she was resisting Antispiral. To counteract the newly-created Tengen Toppa Gurren Lagann, Antispiral created the Granzeboma. After the battle, Antispiral was defeated, destroying it and the entire Anti-Spiral race.
Powers and Abilities
Anti-Spiral Power: The opposite energy of Spiral Power, attained by the Anti-Spirals after they purged themselves from their ability to evolve, in fear of the consequences of the abuse of this energy. It is a power that launched them to great levels of power, to the point of being able to warp reality itself, in a number of possible ways. Antispiral's power reserves are immense, that he, with his Granzeboma, is capable of fighting against Tengen Toppa Gurren Lagann; a galactic scale mech, created by Simon, who integrated the entirety of the multiverse to his body, along with having infinite reserves of Spiral Power, after merging with all possible versions of himself in the multiverse. Despite the huge power increase Simon had gained, he was no match for Antispiral, for a little while, before the power of evolution slowly lifted him up to his level, then the latter would succumb to the unbreakable hearts of Team Dai-Gurren (as per Work Soul). With Granzeboma, Antispiral grabbed two galaxies, merged them together, and imbued it with his own energy, forming the "Infinity Big Bang Storm", an attack that was compared to that of the universe's birth itself.
Reality Warping: Antispiral has complete control over his universe, as it was created upon his birth. This is why Lordgenome claims that he is the universe itself, as the very space that the final Anti-Spiral battle took place, is connected to Antispiral's own life force; corroborated by Leeron after the end of the battle, that the energy that maintained that space, had vanished.
Mecha Controlling: Antispiral has several mecha that he is capable of controlling from an interdimensional distance, all with specific use. He took over the Cathedral Terra, and turned it into a humanity annihilation system, for when Earth hits one million in human population.
Probability Fluctuations: Antispiral, like his Ashtanga, is capable of utilizing probability fluctuating attacks, that can take down much more powerful opponents; negating durability essentially. His Ashtanga were being one shot by Super Galaxy Gurren Lagann, but even with that large power gap, the Ashtanga could damage SGGL with Probability Fluctuating Missiles. He is even capable of using it to remain completely invulnerable, evident in his battle against Tengen Toppa Gurren Lagann with Granzeboma, for the sake of being even. Later in the battle he states the chances of winning in his universe are absolute 0; which is why he remains unharmed after being shot by Yoko's Tengen Toppa Superconducting Rifle.
Mind Manipulation: Antispiral is capable of sending the consciousness drifting throughout the multiverse, via a technique he developed, named "Multiverse Labyrinth".
Time Travel: Like his Ashtanga, he should be able to shift throughout the time axis, attacking opponents from different points in time, similar to Simon and Boota in Super Galaxy Gurren Lagann.
Power Mimicry: In the movie version, Antispiral copied Team Dai-Gurren's "Super Tengen Toppa Giga Drill Break", with his own technique "Anti-Spiral Giga Drill Break"
Existence Erasure: As Antispiral was analyzing the information Nia had gathered from her time on Earth, her body was disappearing with each piece of knowledge that was being integrated into Antispiral's minds; although, Nia was able to resist with her own regenerative abilities.
Biology Manipulation: Antispiral imbued Anti-Spiral genes into Nia's genetic code, and would awaken when the population of Earth reached one million.
Regeneration: Antispiral, aboard the Super Galaxy Gurren Lagann, was able to reform his entire body, even after Boota completely physically destroyed it; as his body is the embodiment of the countless consciousnesses of the Anti-Spiral tribe.
Elasticity: Antispiral has extended his limbs numerous times against Nia, as he examined her, and in his fight with Simon.
Dimensional Travel Interference: With a projection of Nia, Antispiral was able to prevent Team Dai-Gurren from transporting themselves to him.
Skills
Strategist: Being the collective conscious of a race of incredibly advanced and knowledgeable beings who have been around for eons, Antispiral is extremely intelligent. He was capable of designing the Mugann, Ashtanga, Death Spiral Machine, Granzeboma and Super Granzeboma. He came up with the idea of utilizing the multiverse itself, because of its mechanics, to trap Spiral consciousnesses. Antispiral was capable of setting a complex plan in place, in order to inflict absolute despair unto the Spirals of Earth; which would've worked, if not for Team Dai-Gurren's incredible will.
Piloting: Antispiral is a surprisingly proficient pilot, despite his only hands-on piloting experience is against Team Dai-Gurren's Tengen Toppa Gurren Lagann.
Martial Arts: Similar to his piloting skill, Antispiral is also an expert in martial arts, as he was capable of keeping up with Simon, in hand-to-hand combat.
Equipment
Mugann: Anti-Spiral soldiers created to advance towards Earth, after its population hit one million.
Upper-Class Mugann: Slightly larger Mugann, which look over the lower-class Mugann.
Kuu Mugann & Kyou Mugann: Significantly larger Mugann, in comparison to the lower-classes.

Kuu-Kyou Mugann: The merging of both gigantic Mugann. Was capable of holding against Arc-Gurren Lagann for a short-lived moment, before being sent to the far end of time.
Anti-Spiral Fleet: Antispiral has a greater scale fleet of Anti-Spiral soldiers, used during the Anti-Spiral war.
Hastagurai & Pada: Anti-Spiral soldiers which resemble hands and feet, the size of the Space Dai-Gun of Team Dai-Gurren.
Ashtanga: The greatest solders of Antispiral, larger than Super Galaxy Gurren Lagann, and even the Earth. Capable of using probability fluctuating missiles to negate the probability of someone blocking an attack. They can also shift through the time axis via the Schrödinger Warp.
Vasuki: An Anti-Spiral soldier exclusive to the novelization and manga, a serpent like mech, which is extremely quick in water and in space. Unlike with the Ashtanga, Team Dai-Gurren had an incredibly difficult time fighting against just one of these soldiers, and would've died if not for Viral's limitless stamina.
Personal Mecha: Antispiral creates mecha which he uses to fight only with Team Dai-Gurren.
Granzeboma: A mech created in response to Simon's creation of the Tengen Toppa Gurren Lagann; another galaxy-class mech. Similar to the latter, it has a flame behind its back, but in a purple color. Antispiral with his Granzeboma has a few special techniques, such as the "Super Galaxy Eight-Pointed Halo" (throwing galaxies), and the infamous "Infinity Big Bang Storm".

Super Granzeboma: As its name would imply, it is the super version of the Granzeboma, exclusive to the movies and manga. It was created in response to Team Dai-Gurren's formation of the Super Tengen Toppa Gurren Lagann; another universe-class mech. Its special move is named "Anti-Spiral Giga Drill Break", an imitated move of the show's signature technique.
Quotes
| | | |
| --- | --- | --- |
| " | We Anti-Spirals were once a Spiral race like yourselves. But when we learned that the evolution of Spiral Power would lead to the destruction of the universe, we annihilated all those who possessed the power of the Spiral and drove the few surviving life forms to the far corners of the universe. We halted our own evolution and locked ourselves away into this pocket universe! On our homeworld, we sealed away our bodies and any hope of evolution! This form is the symbol of our determination! Foolish creatures, drunk on Spiral Power! We defended the universe by killing our fellow spirals and halting our own evolution! Do you possess the sheer fortitude that is on par with that?! DO YOU?! WE SAY, NO, NO, NO, NO, NO, NO, NO, NO, NO, NO, NO, NO, NO, NO, NO, NO, NOT! AT! ALL! | " |
Gallery
Main article: Antispiral/Gallery